Experience the fun, simple, easy way to purchase your next vehicle!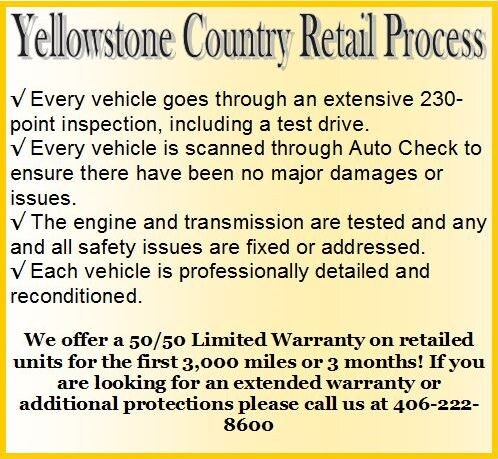 Yellowstone Country, along with many other small local dealers within the region, 
have come 
together to combine our 
inventories, all to form
 the largest used vehicle
wholesale network
 in Montana, 
Wyoming, and the surrounding Rocky Mountain
states. Our network gives us
 the ability to 
help you 
locate and purchase thousands 
of hard to find cars, trucks, SUV's and vans.  This also allows us to offer you a larger selection
than any of the bigger dealers!  And, because 
we are a 
smaller dealership
located in a small town, 
we do not have the high expenses that the 
big dealers do, so we are able to pass major savings on to you!
                            Located in the Bozeman area?     
                     Don't be over-charged for document fees. 
                       We see other dealers charge an extra $400 dollars
            for fees that 'Consumer Reports' say should never be higher than $100. 
                        Our Cost is the real cost, only $99.00