Montana's Quality Used Trucks, Sport utilities, Cars and Vans.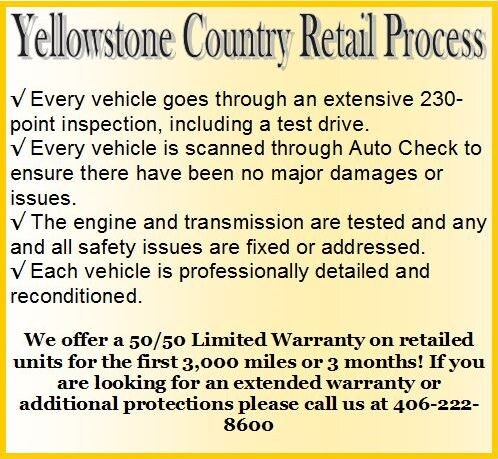 Yellowstone Country has a large selection of Used Ram 1500 and heavy duty Ram trucks, if you are looking for a light duty Ford F-150. Chevy 1500 or heavy duties like the Ford F-250, F-350 or Chevy 2500 and 3500 you have come to the right place.
Looking for a sport utility, car or van we stock those too.  All vehicles go through a 230 point inspection and are ready to drive with our quality certification. If you do not see that special vehicle call us or email us, because we're also a wholesale dealer we have networked with dealers throughout Montana, Wyoming and Idaho. 
 Our network gives us the ability to help you locate and purchase thousands of hard to find cars, trucks, SUV's and vans.  This also allows us to offer you a larger selection than any of the bigger dealers!  And, because we are a smaller dealership located in a small town, we can sell you the vehicle at a lower cost which will save your family money. 
 If you are closer to Belgrade then Click here to visit our Belgrade Location!                                 
Alert ! !   Don't be over-charged for document fees.  We see other dealers charge 250-400 extra dollars  for fees that 'Consumer Reports' say should never be higher than $100.  Our Cost is the real cost, only $99.00 for temp tag and title processing.